Last Updated on November 10, 2023 by Sorin Petroj
In this blog post, we'll review the top 15 best table tennis rubbers in 2023, dominating the world of the offensive game style. After careful research and testing, we made this list based on certain advantages of fast-paced gameplay, such as topspin, control, speed, durability, and spin.
The list includes the best of the Butterfly, Tibhar, Stiga, JOOLA, DHS, and Donic. Many professional players use these rubbers because they are excellent for an offensive, aggressive, and powerful style.
Our Winner & Best Overall for 2023
Incredible spin performance

High tension friction feature
But first: when you look at the top table tennis players today, such as Ma Long, Timo Boll, and Dimitrij Ovtcharov, you will notice that they all have ultra-fast rubbers. They use two types of rubber on the FH and BH of their racket, and we will single out all of these high-performance table tennis rubbers in this list.
New Table Tennis Rubber (Speed & Spin – 102, 105)
Fastest Hybrid Energy Rubber

Large pores in the sponge

Very spinny for attack and defense
Yasaka's Rakza 9 is intended for an attack-playing style. It is one of the most popular rubbers among intermediate players. With its Hybrid Energy system technology, Rakza 9 is the fastest table tennis rubber from Yasaka Brand.
Best Table Tennis Rubbers in 2023 Selected by The Author
| | | | |
| --- | --- | --- | --- |
| | | | |
| | | | |
| | | | |
| | | | |
| | | | |
| | | | |
| | | | |
| | | | |
All of the rubbers below are designed to suit different playing styles. Although some are more versatile than others, it is safe to say that these rubbers have been designed for attacking players.
This guide identifies seven of the best table tennis rubbers in 2023 recommended for hard hitters, smashers, and aggressive players. These rubbers have dominated several years of tournament wins and will undoubtedly give you the competitive edge over your opponent and the ones you'll need to feel supreme.
Xiom Vega Table Tennis Rubber Series
The Xiom Vega series is designed with speed performance in mind for offensive players. Its deep ball-dragging at the surface allows for more spin, and its matching sponge provides fast repulsion for even more speed.
This balanced combination helps players open larger safe zones over the net by providing a higher ball trajectory. Xiom offers four different options in its Vega series that cater to different needs and preferences.
The Xiom Vega X rubber is perfect for those looking for maximum spin, while the softer Vega Asia offers more speed. For those seeking control, there's the softest option of all, Vega Pro, which provides extreme control.
And if you're looking for something in between, then look no further than Vega Europe, which offers both softness and control. The Xiom Vega and Jekyll rubber series are designed with durability in mind, so they won't wear down or become ineffective after just a few uses or games.
POPULAR TABLE TENNIS RUBBERS ON SALE!
| | | | |
| --- | --- | --- | --- |
| | | | |
| | | | |
| | | | |
| | | | |
| | | | |
| | | | |
When properly cared for, these rubbers can last up to several years before needing replacement—making them an excellent long-term investment!
In conclusion, if you're an offensive player looking to take your game to the next level in 2023, then you should consider investing in a set of Xiom's Vega table tennis rubber reviews.
Xiom Vega Series Rubbers Features
Xiom Vega Asia: Speed: 130, Spin: 100, Hardness: Hard 47.5 degrees
Xiom Vega X: Speed: 91, Spin: 92, Control: 91
Xiom Vega Pro: Speed: 87, Spin: 89, Control: 73
Their unique design allows them to provide both speed performance and spin-innovation Hyper Elasto. Also, it is incredibly durable over time. Compared to Tenergy table tennis rubbers, Xiom is softer and better for looping, while Tenergy is durable and great for blocks.
With their variety of options available, there's sure to be one that fits your playing style perfectly! So don't wait any longer – get yourself a set of these rubbers today and see what they can do for your game!
Xiom Vega rubber is a less expensive table tennis rubber than the Butterfly series. Backhand and forehand pushes are excellent, and beginners will be surely satisfied.
1. Butterfly Dignics 05
The Dignics 05 rubber is a high-performance rubber preferred most among offensive players with a focus on speed and spin. It is a viable rubber suitable for both backhand and forehand.
Depending on how you pair this rubber onto your blade (forehand, backhand, or both sides), it allows you to expand the possibilities and become a more advanced player.
The weight of Dignics 05 is 569 grams. The rubber has a firm and elastic top sheet. The top sheet of the rubber is very grippy, which is why the ball will stay on the paddle providing you with more dwell time.
The Spring Sponge X of Dignics 05 has a hardness of 40 degrees, which sits between the hardness of Tenergy 05 and Tenergy 05 Hard rubbers. It is a high-speed table tennis rubber with a MAX sponge thickness.
The thickness of the sponge is 2.1 mm (1.9 mm is also available). A thicker sponge means the rubber provides a soft feel and is more spinny, making it a good choice for the fast player.
This rubber performs superbly, whether you rely on closeup counterattacks or love to do aggressive flicks. Players who seek power mid-distance from the table and use banana flicks will also love the excellent holding capacity of the rubber's grippy top sheet.
The best table tennis players with Dignics 05 are Harimoto Tomokazu and Lin Gaoyuan.
Butterfly Dignics 05 Performance & Key Features
Speed: 13.5
Spin: 12.0
Rubber Hardness: 40
The speed and spin of Dignics 05 are more than Tenergy 05 rubber sheets, while the hardness is in between. Also, Dignics 05 provides 3.4% more power and 22% more arc than Tenergy 05 rubber sheets. It uses spring sponge technology for modern players.
But the most notable feature of this rubber is that it's incredibly spinny, yet due to the grippy top sheet, it provides excellent safety and controls both close to and from the mid-distance of the table. This rubber is most favored among players who shoot supper spinny loops.
When executing topspin strokes, the ball travels further, higher over the net, and deeper on the table. This provides an advantage to players who play with less strength. The rubber generates enough power to drive the ball deeper into the opponent's court, away from the table. All these attributes make it a fabulous choice for opening.
Butterfly Dignics 05 Service, Return, and Block
When serving, the Dignics 05 generates a lot of spin with ease. Although spinny, the rubber provides excellent control during the service and receive. That's because the surface of the rubber is very grippy, making it hold the ball longer and allowing you to produce a lot of rotation to the ball for backhand flicks.
The rubber's low trajectory and dwell time will give you more control during the counterattacks. The superb control of the rubber makes it perform fantastic at blocking.
When you are under pressure and need to block, you'll find the grippy top sheet of the rubber extremely useful. It doesn't require much adjusting when blocking shots, and the ball will go over to your opponent sharp and effectively.
Pros
Dignics 05 provides excellent offensive advantages like solid impact, excellent spin, and super responsiveness.
It is a super-grippy rubber. It grabs the ball amazingly well, whether offensive or defensive.
The rubber is very spinny yet provides enough control to play confidently and attack with power.
It is a very durable rubber. The edges won't break easily. It would play like a new one, and its performance will stay intact even after a year.
Cons
Players who like smashing on forehand might find the rubber too bouncy as it gives off a lot of power. This may smash the ball out, so it's better to pair the forehand of your paddle with a less spinny rubber (Tenergy 05 or Tenergy 05 Hard) and use Dignics 05 on the backhand for superb backhand flicks.
As with most of the Butterfly rubbers, Dignics 05 might seem pricey. But it'll be worth your money because it lasts longer than other rubbers.
Best Table Tennis Rubbers in 2022 – Butterfly Dignics 05 Review: Our Verdict
Dignics 05 is a fantastic rubber that provides more spin, high speed, and powerful topspin. This high-performance rubber will improve your attack ability.
The only thing Butterfly could work on is perhaps they could lower its price so that more players could try it out and advance their attacking skills.
2. Stiga DNA Dragon Grip
Playing with Stiga DNA Dragon Grip rubber will be a great experience. This rubber is for players seeking control and spin in a loop-oriented game.
Its specially formulated Dragon Grip Sponge offers effective control, good speed, and high spin potential.
Stiga DNA Dragon Grip is preferred among players who want to improve their game and make the most of their paddle. It is also a good choice for players who wish to unleash their true potential of offensive game style.
Stiga developed the sticky surface of this rubber to deliver high control and maximum rotation. When Stiga launched its first table tennis rubbers, it opened a new era in Table Tennis. Where the ball hit on a Stiga rubber is only clearly perceptible when the ball bounces off one of these rubbers.
Ever since that, it's been known that Stiga is at the cutting edge in developing table tennis technology. This time too, Stiga has broken new ground by introducing a new construction: Dragon Grip.
Stiga DNA Dragon Grip rubber sponge has a firm, non-slip surface and hardness of 55 degrees. It is extra hard than Digics and Tenergy rubber sheets and 5 degrees more than the DNA Platinum H.
The thickness of the rubber is 2.3 mm. The influence of the rubber on your play has never been more direct or even more immediate than with Dragon Grip – a unique feature is that you can control ball placement immediately and intuitively!
Stiga DNA Dragon Grip Performance & Key Features
Speed: 88
Spin: 99
Control: 71
Hardness: 55
Stiga DNA Dragon Grip provides a balanced level of control, optimal outstanding spin, and high arc ball rotation. The tensor technology of the rubber's surface offers you an unbeatable grip and high elasticity, which means you can play with maximum comfort.
It's fast and spinny, but not too fast and spinny. This means you can use it as a backhand rubber and forehand rubber. Technically, it is a good rubber for those who want to adjust their offensive game style or for players who wish to unleash their true potential in the attack.
Stiga DNA Dragon Grip Service, Return, and Block
The extra hard sponge of Stiga DNA Dragon Grip allows you to release maximum energy at the moment of impact in the serving or return your hard shots.
Swiping this rubber will feel smooth and soft, regardless of serving or receiving it. It is suitable for players who want to generate precise spin and speed at the ball for an offensive game style.
A player's strengths are not a direct result of their speed but rather several factors. Some lead blades sometimes end up giving your opponent the upper hand.
The Dragon Grip from Stiga DNA rubber is an innovative sheet that balances powerful spin without compromising control and speed.
The rubber provides a distinctive sound. While playing, the sound gives you immediate feedback on the stroke's timing and style.
For example, whether it was played too early or late in the incoming ball, whether you had to close the angle due to poor timing or not hitting the ball enough, and whether you played it on the forehand or backhand side.
Pros
The Stiga Dragon is good at unbalancing your opponent; it is fast and has a higher arc and spin potential.
You will love this rubber if you are a fan of sensation (e.g., the distinctive smash and hit sound) and immediate feedback.
You'll also love Stiga DNA Dragon Grip if you look for rubber with a top-quality grip and seek more spin from a drive, loop, and service return.
Cons
The rubber can be a bit vulnerable to cut shots and ball sensitivity.
It might feel a bit harder and heavier than Dignics and Tenergy rubber sheets, but this is an excellent choice to unleash the true potential of squash and smash players.
Stiga DNA Dragon Grip Review: Our Verdict
In a nutshell, DNA Dragon Grip rubber is a fast attack-top spin rubber. It is ideal for players who have mastered the basic technique and have a strong attacking and offensive game style.
And if you use it on the right blade, you can even push to win over the table.
3. JOOLA Rhyzen ZGR
With JOOLA Rhyzen ZGR, you'll have the competitive edge to win! This rubber is an excellent choice for hard hitters and offensive players who want to play with more timing and powerful shots.
The Rhyzen ZGR is the most powerful rubber in JOOLA's Rhyzen line. This rubber will let you take your game to the next level, featuring a Hyper Traction Surface and kinetic energy Balance sponge. The rubber surface is tacky and great for faster table tennis paddles and the best blades.
This innovative design features small pips for improved grip and control and a medium spacing that allows you to generate massive amounts of spin.
Moreover, the BALANCE SPONGE ensures precise shots and excellent control. The pimple structure and balanced sponge combine to create a rubber that is easy to use and produces a massive spin.
JOOLA Rhyzen ZGR Performance & Key Features
Speed: 8.5
Spin: 11
Trajectory: 7
Precision: 8.5
Hardness: Hard+ (54 to 55 degrees)
This innovative and one of the best table tennis rubbers in 2023 is designed to give you the competitive edge you need to take your game to the next level. With its superior grip and speed, you'll be able to dominate your opponents and win every match.
This design combines JOOLA's smallest-sized pips with medium-spacing to enhance the top sheet's tacky grip and make it easier to generate massive spin. Also, this rubber offers excellent control value and produces precise shots.
JOOLA Rhyzen ZGR Service, Return, & Block
If you want to block your opponent's shots with a lot of power and smash your serves at full speed, the JOOLA Rhyzen ZGR rubber is your weapon of choice. This top-of-the-line table tennis rubber is designed for maximum energy transfer, so you can quickly increase ball rotation and achieve impressive speed.
The JOOLA Rhyzen ZGR rubber has very high catapult properties (touch-type), which deliver a considerable amount of kinetic energy quickly. With the Rhyzen ZGR rubber, you can dominate your opponents on the court due to the enormous speed and power generated when releasing your strokes.
JOOLA Rhyzen ZGR Pros and Cons
Pros
It is the most budget-friendly professional rubber of choice in 2023.
This rubber creates a controlled and quick kinetic energy transfer from the player's racket to the ball's surface.
The unique sponge of this rubber provides an impressive effect and significant speed, so critical for your devastating shot.
Cons
It is a hard sponge rubber designed for professional table tennis, and you'll be required to master basic skills to unleash its full potential.

Harder to play against players who have anti-spin rubber.
JOOLA Rhyzen ZGR Review: Our Verdict
For players looking for a looping topspin rubber with a special catapult effect, the Rhyzen ZGR is a perfect choice. With Rhyzen ZGR, you'll experience impressive speed without losing control and enjoy a good sense of stability and exceptional stopping ability.
It is also one of the best rubbers for someone who does not want to change their setup often because of its reasonable price tag and durability.
4. BUTTERFLY DIGNIGS 09C
CHECK PRICE ON: MEGASPIN AMAZON
Exciting and different table tennis rubber compared to all rubbers from this brand. It feels like DHS Hurricane 3 in terms of feel, but it's faster. It was first released on April 1, 2019.
The Dignics 09c has a smooth and very sensitive surface. When buying this rubber, you have a protective layer not to damage the rubber quickly. This is the most rigid Butterfly rubber, and it has 44 degrees.
The cube, 74 grams, and the heaviest rubber among the best table tennis rubbers in 2023. The first rubber of this company is where the ball can stick to the racket when you press the ball.
In addition to the Dignics 09c, there are also Dignigs 05, 64, and 80, which are 40 degrees, but different from this one. The characteristics are more similar to the Tenergy series. The thickness of 1.9 and 2.1 mm can be found on the Dignigs 09c market.
Timo Boll, in cooperation with the company Butterfly, made this rubber. The best players who play with this rubber are Timo Boll and Dimitrij Ovtcharov.
Speed and Spin
Speed: ​​130
Spin: 130
Rubber hardness: 44
Unique table tennis rubber, its highest characteristic is spin. Although it is a very hard rubber, it stays on the racket longer and can produce much more rotation than others. Butterfly Dignics 09c has a large bow, and when opening the game, you get a heavy first spin that is uncomfortable to return.
After Hurricane 3, this is the rubber with the most spin but not making a big difference. This kind of rubber had to be produced because changing the plastic balls lost many rotations.
In terms of speed, it is a bit slower than the Tensor Rubbers. For example, it is not too fast in the first meter or two from the table. Still, it accelerates significantly after the bounce, making it inconvenient for its opponents. So, to pull a quality spin, you have to play much more directly, and putting a little more energy into the shot is necessary. After all, the quality of the rotation is much higher.
Service, Return, and Block
It is necessary to enter more energy during service with spin, but the spin is much higher than the other table tennis rubbers. When receiving service, it is perfect. Because the ball stays on the racket a little longer, the service can return much easier than with other rubbers. It is also suitable for opening a backhand flip game.
Interestingly, Dignics 09c has excellent control. It is not demanding when looking for angles, such as Tenegy 05. Because it stays on the racket a little longer, you have time to change the racket angle to return the ping pong ball well, making it perfect for a counter spin.
CHECK PRICE ON: MEGASPIN AMAZON
Cons
Since European players are used to the rubber tensor, it isn't easy on Dignigs 09c. If you try this rubber a couple of times, you probably won't like it. It has a different feeling when playing.
So, if you are not used to playing with Chinese rubbers. It is necessary to play with it for 2 to 3 months to feel comfortable with this rubber. The downside of Dignigs 09c is the price itself because it is costly.
5. TIBHAR EVOLUTION MX-P
CHECK PRICE ON: MEGASPIN AMAZON
Tibhar's most popular rubber will be among the best table tennis rubbers in 2022. They are made exclusively for plastic balls and are very high-quality rubber. Interestingly, they have a powerful smell when unpacking.
It is interesting because of the loud sound of the rubber when hitting the ball, which many table tennis players like. With this rubber, it is impossible not to notice its speed. The players who popularized Tibhar Evolution are Vladimir Samsonov, Bernadette Szocs, Paul Drinkhall…
The cube weighs 73 grams, and the cut one weighs 49 g.
The hardness of the rubber is 45.7 degrees.
The Evolution series, in addition to the MX-P, FX-P, and EL-P, which are softer table tennis rubbers, the MX-S, which is slightly harder than the MX-P, and the MX-P, Hard, whose hardness is 50 degrees.
Speed and Rotation
Speed: ​​98/100
Spin: 96/100
Control: 67/100
Rubber hardness: 45.7/100
High ball speed can be achieved with just a little effort when hitting. This is important because the rubber has a catapult effect. For the rubber to be perfect and the strength and rotation of the rubber itself, it is essential to have solid control.
This table tennis rubber fulfills everything. Tibhar Evolution MX-P has a catapult effect. With a bit of effort, you can play a quality shot. This rubber, in addition to speed, has excellent rotation. It is perfect for opening the game and brings a significant advantage because you can constantly send spins at the table's end.
When playing more aggressively, the rubber doesn't lose much on rotation. It is direct and does not have a big bow when hitting. The best rubber is played from half a distance, and then it can reach its full potential. It is needed by players who lack speed in the game, which this rubber can undoubtedly provide.
Service, Return, and Block
Due to its solid control, it is suitable for good return service. It is perfect for opening the game with a backhand flip, and because of its speed, it is very awkward for her opponent. The rotation when serving is felt well.
It is perfect for pimpling the balls. You can return the spin continuously, precisely, and with quality with a short movement. It is also suitable for a block.
CHECK PRICE ON: MEGASPIN AMAZON
Cons
This table tennis rubber is very high quality. Although it has a solid rotation, you cannot compare it to the Tenergy 05 or Hurricane 3 because it does not produce much rotation. With this rubber, the first ball after opening can be critical.
The MX-P is very fast and straightforward and travels to the end of the table when struck, and if a good enough angle is not made, mistakes are possible. This table tennis rubber does not forgive mistakes.
6. STIGA DNA PLATINUM H
CHECK PRICE ON: MEGASPIN AMAZON
The latest Stiga product and a newer version of the Stiga DNA Pro. It is much faster and has a more pronounced catapult effect than the previous version. There is an improvement over the earlier version. It is the best table tennis rubber in the Stiga collection.
Although Stiga is a Swedish company, this rubber, like the DNA Pro, was manufactured in Germany. This rubber was designed and developed in close collaboration with the Chinese national team members.
When looked at a little better, DNA is a combination of STIGA Genesis and Mantra rubber. It has similar speeds to the Mantra and rotations as Genesis rubber. The young future star of European and world table tennis, Truls Moregard, is currently playing with this beautiful rubber.
You can find 1.8, 2.0, and 2.2 mm thicknesses on the market. The rubber in the cube is 71 grams. In addition to DNA, Platinum H, M, and S versions are softer rubbers and XH, which is more challenging and is 52.5 degrees.
Speed and Spin
Speed: ​​164
Spin: 140
Control: 74
Rubber hardness: 50
Although it has a lot of speed, the rubber is not too demanding and has reasonable control. Cut balls are easy to return, so you can easily open the game with this rubber. An excellent bow is created during topspin since it is a fast table tennis rubber.
One of the best table tennis rubbers in 2023 for advanced players who play close to the table. To choose the thinner rubbers, you should consider this Stiga DNA model.
However, this rubber has a nice rotation, and its principal characteristic is speed. It is also good from a distance. It is suitable for spin-to-spin play. This rubber is made by PCS technology (Power Sponge Cell), allowing for more aggressive play with many spins.
Stiga DNA Platinum H is suitable for the ball to travel longer to the end of the table with higher speed and rotation and be able to make angles to defeat your opponent.
Service, Return, and Block
One of the best table tennis rubbers in 2023 gives excellent control and stability in the game. You can efficiently perform rotation during service. However, it is fast rubber and easy for the serves to return without significant problems.
It is very good with the block, the ball is easily kept on the table, and you can control the game. When taking heavier blows, you can find a suitable table angle. This rubber was created for a counter spin.
CHECK PRICE ON: MEGASPIN AMAZON
Cons
In general, it is difficult to find a defect in this rubber. It can't be said to be the fastest, have the most spin, or have the best control, but it is at the top in all those segments. We can say that this is a very high-quality table tennis rubber.
7. DHS HURRICANE 3 NATIONAL
CHECK PRICE ON: MEGASPIN AMAZON
Hurricane 3 National is the most favored smooth Chinese table tennis rubber. Players use it mostly only on the forehand side. Specially made for plastic balls. When plastic balls appeared, little was lost on the rotation.
So, with the creation of Hurricane 3, the DHS has enabled players who play with this beautiful rubber. So, I do not feel this disadvantage much. It is interesting when buying this rubber that there is a protective foil that keeps this rubber sticky.
Almost all Chinese national team players play with this manufacturer's table tennis rubber or similar rubbers. You can find the rubber thickness in sizes 2 and 2.15 mm. It is a very hard, 50-degree rubber and not flexible.
That's why many players who play with one of the best table tennis rubbers in 2021 use a booster to soften this rubber and give it extra speed.
Speed and Rotation
Heavy: 2.15, 2
Speed: ​​12/12
Spin: 11/12
Control: 12/12
Rubber hardness: 50
Speed ​​is not a characteristic of this rubber, although it may be. To reach a reasonable speed, you must hit it with strong blows. What makes DHS Hurricane 3 National unstoppable is the spin. Abnormal rotation that drives every opponent crazy.
During strong blows, a very high-quality rotation remains. When the topspin is pulled, this rubber produces a very heavy rotation. Very good rubber to open the game. The high arch strikes the ends of the table and enables excellent consistency in the game.
Service, Return, and Block
Because it stays on the racket for a long time, this rubber has excellent control and is suitable for all types of servers.
However, it is better for a reception to quickly neutralize the opponent's service and send the ball to the desired place. It is ideal for pimples, and it can be controlled and perfectly do pimples on each ball, spin, and even the one with the highest rotation, without problems.
CHECK PRICE ON: MEGASPIN AMAZON
Cons
When we mention the wrong sides of this rubber, it is speeding, although the Chinese have shown us that this is not the case. You must train with this table tennis rubber for a long time to learn all the advantages and disadvantages.
That bothers those not used to training with Chinese rubbers the most. Another flaw is a spike (lob ball). It is impossible to hit a high ball hard with this rubber.
Other Great Table Tennis Rubbers in 2023 You Should Consider
8. BUTTERFLY TENERGY 05
CHECK PRICE ON: MEGASPIN AMAZON
When the best table tennis rubbers in 2023 are mentioned, it is impossible to omit Butterfly Tenergy 05. Although it was produced in 2008, it is still one of the most popular rubbers among many table tennis players.
It is the first original rubber from the Tenergy series. Players who popularized this rubber were Timo Boll, Michael Maze, Kalinikos Kreanga, and Dimitrij Ovtcharov. Until the appearance of plastic balls with these rubbers, played by Ma Long and many others.
The cubes are 69 g, and the cut ones are 49 g. The hardness of the rubber is 36 degrees. The thicknesses of the rubbers you can buy are 1.7, 1.9, and 2.1 mm.
In addition to the Tenergy 05, there are the Tenergy 19, 25, 64, 80, and Tenergy 05 Hard versions of this rubber. In addition to them, you can find the FX version of all these table tennis rubbers on the market, which is a little softer and is 32 degrees.
Speed and Spin
Speed: ​​130
Spin: 115
Rubber hardness: 36
It has a catapult effect, which means it is a very fast rubber with an extremely high spin. The outer layer of rubber makes excellent contact with the ball, giving a perfect speed and spin when hitting the ball.
The rubber is not too hard. It does not have to hit the hardest to get a quality kick. Although the Tenergy 05 has a good speed, the highest quality and the main feature of this rubber is that it can produce a lot of rotation. This rubber can create a lot of spins, even with cut balls, which makes it perfect for opening the game itself.
Players who use this rubber gain an advantage over the opponent at the beginning of the point. The shot quality gives many players great self-confidence, which is why many players decide to use this beautiful rubber.
Service, Return, and Block
The Tenergy is one of the best table tennis rubbers in 2022 and excellent with serving because it produces a lot of rotation, but it is terrific when playing flip due to speed and rotation. It is inconvenient to receive the service because the rubber is fast and at an excellent angle to neutralize the service opponents and return them to their field.
The Tenergy is also high quality when pimpling. If good timing is found, a blow with this rubber is indefensible.
CHECK PRICE ON: MEGASPIN AMAZON
Cons
The downside of this rubber is the control. This rubber has a high speed and rotation, and if you do not have a solid technique, it is challenging to meet the requirements of this rubber.
Butterfly Tenergy 05 does not forgive mistakes. It would help if you found a good angle to play a quality ball. Another objection to this rubber is the high price.
9. Donic Bluefire M1 Turbo
This top-quality rubber has been enhanced with a new pimple formation and a harder sponge to give you explosive power and spin. The upgrade offers enhanced dynamic and spin qualities, making it the perfect choice for players who want to dominate their opponents.
With its slightly harder sponge (medium ++), the Bluefire M1 Turbo is perfect for those who want an extra competitive edge. This speed demon will help you blast past your opponents with ease. A slightly harder sponge and slightly faster make this rubber perfect for those looking to unleash some serious firepower.
The Bluefire M1 Turbo table tennis rubber is designed for advanced players looking for a rubber that provides more speed and spin. The slightly harder sponge and rubber create a faster, more responsive ball that is perfect for attacking shots.
Plus, you can expect increased dynamic thanks to the harder sponge. The top surface rubber offers extra spin, while the slightly harder sponge (50°) provides increased dynamic.
Best Table Tennis Rubbers in 2023 – Donic Bluefire Features
Speed: 9.8
Spin: 9.8
Control 6.6
Hardness: 7.9
Throw angle: 6.6
10. Yasaka Rakza 9
The Yasaka family of rubbers has been an industry leader for years, and their newest addition is sure to make them even more popular. Rakza series is International Table Tennis Federation – ITTF-approved rubber.
With the release of Rakza 9 came a new formula that offers improved speed characteristics compared to previous models while maintaining flexibility due to its hybrid energy system, which combines different types of wood pulp filaments at low temperatures.
So, they don't separate during the production process as standard latex does! The surface texture of this particular ball seems almost unheard of. It's composed mainly of polymers rather than outright leather dressed over another layer (as we usually see).
The Yasaka Rakza 9 New Table Tennis Rubber in 2023
With the latest addition to Yasaka's Hybrid Energy system, Rakza 9 has improved speed characteristics.
In addition, it features a newly developed formula/rubber combination on its surface. One of the best ping pong rubbers, providing faster ball travel with more significant spin variation than ever before.
This new sponge is made of a more homogenous material and offers professional table tennis players a great feel in hand due to an increased level of "Lustre Playability" qualities that will satisfy even those looking forward most powerful shots possible from their swings. The rubber speed is dramatically increased.
11. XIOM Jekyll and Hyde Z52.5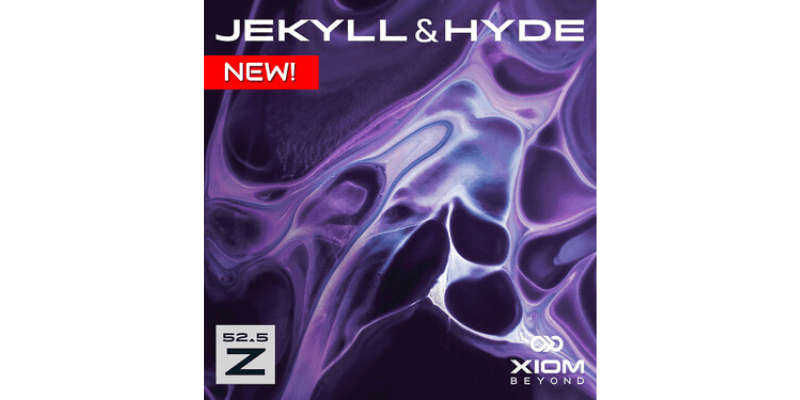 Chinese-style hybrid table tennis rubber is designed to optimize your blade's performance while reducing unnecessary movements.
National team players use unique products to improve their natural rubber gum, thanks mainly to its developers at XIOM. The latter has developed an advanced "Z" style for general athletes and amateurs looking forward to a good ping pong rubber!
It is an offensive rubber with MAX sponge thickness. You will have excellent control over incoming spin thanks to the harder spring sponge.
In 2022, Jekyll & Hyde announced that they had finally created the ultimate ping pong rubber for intermediate players. The company's deep learning research and cycloid technology allow it to create a balance between power and value.
12. Butterfly Aibiss table tennis rubber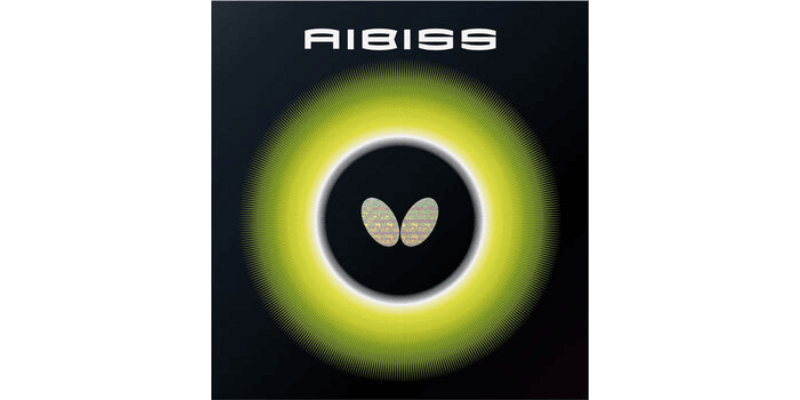 The newest generation of Butterfly Aibiss table tennis rubbers is here! These specialty soft top sheets combine the pimple shape, which encourages heavy spin and fast speeds, with a hard sponge to produce devastatingly effective attacks.
The Spring Sponge technology allows extra support when you need it most – while the medium throw angle will enable you to perform high-speed topspin.
Also, you get more control with this affordable table tennis rubber. Compared to Butterfly Tenergy, it is more controllable and harder. Butterfly Tenergy 05 has a soft sponge in comparison to Aibiss.
If your style includes making optimal use of friction materials, this product will help take things up another notch by giving you more power behind each shot so that there's no question about whether they'll go in or sit out.
It's best paired with Lin Gaoyuan ALC, Timo Boll ZLC, or any other ping pong paddle that feeds off these types of rubbers, such as MAZUNOV blades!
13. Yasaka Mark V M2
The name Yasaka is synonymous with table tennis thanks to their flagship rubber, the Mark V. This rubber has been around since the 1970s and has continuously evolved.
Yasaka has released the newest iteration of this classic ping-pong rubber, the Mark V M2. It combines the unbeatable characteristics of its predecessor with a design meant with top players in mind—sharp spin and the highest possible speed. The difference between the two rubbers is greater control, spin, and speed.
What Makes It Different?
The Yasaka Mark V M2 rubber top sheet isn't just an upgrade from its predecessor; it is a new weapon explicitly designed with competitive players in mind. Combining high speed and spin gives players more control than ever before when playing close to the table or away from it.
In addition, this rubber also provides more stability on shots due to its increased energy transfer capabilities between your paddle and ball. Finally, its built-in elasticity gives you a more comfortable grip without sacrificing performance or power when executing shots.
14. Victas V>22 Double Extra Affordable Table Tennis Rubber
Developed through extensive collaboration with top players like Koki Niwa and Liam Pitchford, the Victas V22 Double Extra Table Tennis Rubber sets a new standard in speed, spin, and precision.
This affordable table tennis rubber combines unparalleled power with exceptional stability, allowing for the precise placement of attack shots. The Select top sheet ensures optimal ball coupling, while the specially designed open-pore sponge supports aggressive, speed-oriented attacking playstyles. It is a softer rubber in comparison to others.
Manufactured in Germany, this inverted, high-energy tension rubber boasts impressive speed ratings of 96, spin ratings of 91, and a control rating of 80, with a hardness level of 50. Still provides exceptional ball placement in comparison to the forehand rubbers.
15. GEWO Codexx EF Pro 54
Blending the best of European flex rubber and Asian high-spin tackiness, the GEWO Codexx EF Pro 54 table tennis rubber delivers a lethal combination of power and spin.
Designed for close-to-the-table play for every table tennis enthusiast, it generates explosive shots that are difficult to return. Compared to the popular Nexxus Hard series, the Codexx EF Pro 54 offers even more rotation, thanks to its slightly tacky top rubber sheet. The increased dwell time allows for greater control in over-the-table situations.
This rubber series excels in producing spin on ABS balls, surpassing traditional rubbers while maintaining excellent energy transfer. The slight tackiness of the top sheet enhances spin generation and creates unpredictable trajectories.
With the GEWO Codexx EF Pro 54, top-level attackers will find their ideal rubber, offering ultimate hardness, remarkable spin, and reasonable control. It empowers players with the ability to unleash devastating serves, flat and spin-rich topspins, and maximum power in table tennis games. Suitable for hardworking players with solid technique, who appreciate the direct and linear feel provided by hard sponges with tacky surfaces.
Yasaka Rubbers History
Yasaka ping pong rubbers have been around for almost 100 years, dating back to 1926! Their flagship rubber, however, was born in 1970 and 1971 when it won both World Championships consecutively.
Since then, different kinds of this classic rubber have been produced throughout decades of innovation—including Rakza rubbers that have taken innovation to another level! The shape of these rubbers is designed for maximum spin efficiency so that you can get a maximum spin on every shot while maintaining optimal control over each stroke.
When choosing this great choice of Yasaka Mark V M2 best table tennis rubber, you can expect superior performance compared to standard rubbers available on the market today.
This includes increased speed (92), spin (91), and control (80). As a result, you can maintain tight defense while having enough power for offensive play if needed. Additionally, this rubber boasts an enhanced feel that increases comfort during long matches without sacrificing performance or power on shots executed off your paddle face.
If you're looking for a table tennis rubber that offers top-notch performance combined with an enhanced feel and comfort during long matches, look no further than Yasaka's latest addition to their classic line: The Mark V M2!
This revolutionary new rubber offers increased speed (92), spin (91), and control (80) so that you can dominate any match while maintaining consistent play regardless of where you are on the court or how long your match lasts! Don't wait any longer; get ready for success by trying out the best table tennis rubber – Mark V M2, today!
What to consider when choosing fast table tennis rubbers?
Firstly, you should pay attention to the hardness of the rubber because if the rubbers are the same speed, then the difference in hardness can also affect the arc and rotation during an incoming spin. The more complex the rubber, the more penetrating power you will have, but the harder it will be to achieve topspins with a significant rotation.
Secondly, contact with the ball and vibration affect how you control the division of the balls and the blocking of fastballs from the opponent.
Vibration is also essential because of the blocks and pimples against anti-spin rubbers. In some situations, when the opponent is attacking, you can absorb the strength of the blow and dictate the game's pace.
Thirdly, the table tennis blade on which you will stick the rubbers is essential because only then, with the right combination, will you have a good effect of control and speed. You shouldn't put extremely fast rubbers on a slower and defensive blade.
Moreover, these are the most important things to pay attention to, but many factors affect the game. The last thing should be the advanced surface sheet you can choose when purchasing.
We hope you have received enough information in this article to make it easier to choose and make the best combination for yourself and your table tennis racket.
Dignics 05 is the perfect table tennis rubber for those who desire a topspin drive. Its friction gives the ball more speed and power, making it fly out quickly and directly to your opponent's hand.
If you are looking for a rubber that offers more flick ability, Tenergy 05 is the right choice – its increased speed will have you winning backspin balls in no time! However, if control is what you're after, look no further than Dignics 05 – it won't move the ball much.
Dignics 05 excels at driving topspin and offers tremendous friction and speed. For quick flicking action with backspin, go with Tenergy 05 – it gives your hand more power and direct feedback. Either way, you'll have total control over your shots.
Check out Tenergy 05 Hard – the powerful and spinning rubber that professional players love. This is the perfect rubber if you're looking for more power and spin on your forehand side. This powerful, spin-friendly rubber is ideal for players hitting hard on their forehand side.
The Dignics 05 rubber is excellent for your backhand. The grippy top sheet produces heavy spin on shorter strokes, making it a viable option for your backhand.
Plus, the rubber is easy to control and delivers consistent results. If you want the tacky rubbers, you should consider the Butterfly Tenergy, but for others with a softer sponge, the best is Tibhar Evolution MX P.
The List of New Ping Pong Rubbers From Other Brands
Best Table Tennis Rubbers in 2023 – Summary
Firstly, players with little experience would not know how to control demanding table tennis rubbers (they can use the rubbers of these series but choose softer ones).
Although you decide on very fast rubbers like this article and don't have much experience in table tennis, it will be strange at first, but you will adjust quickly to the feeling with enough training.
Secondly, you probably won't like the features we listed in this article if you are a defensive player. There are other table tennis rubbers for chopping on our site, so don't worry. But if you are a striker who prefers topspins and playing from a distance from the table with fast counter-attacks, then this is the right article for you.
Incredible spin performance

High tension friction feature
Moreover, the goal was to get to know the most up-to-date table tennis rubbers in 2023 to find the one that suits you best.
You will not make a mistake with any of these 15, and you will be delighted, but it is essential to find the one that suits you best regarding the nuances and your game.
YOU MAY ALSO LIKE THE FOLLOWING:
BEST NITTAKU PING PONG RUBBERS
BUTTERFLY GLAYZER VS GLAYZER 09C COMPARISON
About The Author